THE DIRECTOR OF THE CENTRE FOR DEVELOPMENT OF RELATIONS BETWEEN RUSSIA AND THE SOUTH SLAVS VISITS THE UNIVERSITY OF BANJA LUKA
University of Banja Luka
General
Ms Irina Albertova Sviridova, associate member of the Russian Academy of Science and Arts, the former Rector of the Kemerovo State University (Russian Federation) and the Director of the Centre for Development of Relations between Russia and the South Slavs visited the University of Banja Luka on 7th April 2014. In the premises of the Rectorate of the University of Banja Luka, the distinguished guest and her associates were welcomed by Prof. Valerija Šaula, the Vice-Rector for International Cooperation of the University of Banja Luka. During the meeting, the possibilities of cooperation with the region of Kemerovo and its university in the domain of teaching process and science were discussed, as well as the organization of joint programmes for professional education and possibilities of international cooperation in general.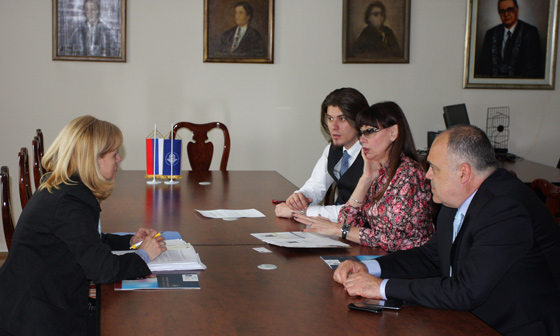 Activities for initiating the procedure of signing the protocol on cooperation between the University of Banja Luka and the Kemerovo State University were also discussed. See more information about this partner from the Russian Federation at www.kemsu.ru

Ms Sviridova is also a member of the Collegium of the Minister of Science and Education of the Russian Federation and the Deputy Governor of the Region of Kemerovo. During the visit, Ms Sviridova will meet the Mayor of the City of Banja Luka, the Minister of Education and Culture of the Republic of Srpska and the Speaker of the National Assembly of the Republic of Srpska.