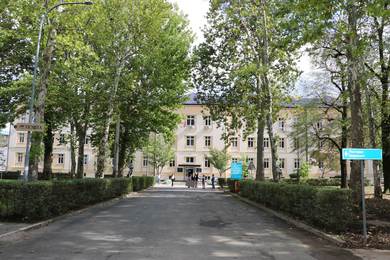 Rectorate
Center for Assistance to Students with Special Needs
Centre for the Assistance to Students with Disabilities (2007–2012) 
Centre for the Support of Students with Disabilities (2012–2017)
---
The Support Centre for Students with Special Needs was established in 2006 by the Association of Citizens InfoPart. Since 2007, the Centre has been part of the University of Banja Luka. At the initiative of the University of Banja Luka, and in cooperation with non-governmental organisations and institutions that have a work programme to support people with disabilities, numerous architectural barriers at some faculties have been removed. Most faculties at the University of Banja Luka are fully or partially architecturally accessible to the users with disabilities. Through numerous collaborations established to serve the needs of the Centre, many assistive technologies have been provided, intended to adapt the teaching process and provide literature adapted to the needs of these students.
The Centre has organised several workshops and round tables. They have contributed to capacity building and greater involvement of students with disabilities in creating an academic environment that would provide appropriate support and improve the quality of study. The Centre has achieved significant results through the implementation of the TEMPUS project Equal Opportunities for Students with Special Needs in Higher Education (EQOPP), implemented between 2012 and 2014, and the Erasmus+ project Trans2Work – School-to-Work Transition for Higher Education Students with Disabilities in Serbia, Bosnia & Herzegovina and Montenegro, implemented between 2015 and 2018. 
The projects were launched to further establish equal access, inclusion and support for prospective students with disabilities at higher education institutions in Bosnia and Herzegovina and the surrounding area. As part of these projects, the Centre has issued several publications. The Centre has two employees, a head of the Centre and one expert associate for issues concerning the students with disabilities.
The former head of the Centre is: Mira Makivić (2017– 2019), while the current head of the Centre is Bojana Trbić (2019–).
The Support Centre for Students with Special Needs is oriented towards continuing the started activities on improving the position of students with disabilities. The plan is to develop and implement projects for the removal of architectural barriers (which include elevators, ramps, tactile tracks and sound signals), as well as the procurement of assistive technologies and equipment necessary for the smooth implementation of the teaching process. The Centre, together with the academic community, plans to establish cooperation with secondary schools in which inclusive education is conducted, so that the secondary school pupils can get proper information about the support and study opportunities for young people with disabilities at the University of Banja Luka. Mobility of students with disabilities have been carried out within the Erasmus+ student mobility programme, and the role of the Centre is to provide support to potential candidates and enable them to take part in such activities in the future.
| | |
| --- | --- |
| Phone | +387 51 301 430 |
| Fax | +387 51 301 430 |
| Website | https://czp.unibl.org |
| E-mail | bojana.trbic@unibl.org |
| Address | "University city", Vojvode Petra Bojovica Boulevard 1A, 78000 Banja Luka |
| Center Manager | Bojana Trbić |
| Assistant for students with special needs | Saša Grbić |